Zina Linnik
Age
12 (at time of her death)
Existence
Real
Status
Dead
Cause of Death
Beaten to death and murdered by Terapon Adhahn
Enemies
Terapon Adhahn
Occupation
Middle School Student (at time of her death)
Appearances
Zina Linnik - Chilling Crimes 1x04 - Joe Winko

Myspace Horror Story - Joe Winko Talk
Zina Linnik
was a young girl who lived in Tacoma Washington. She was born in the European Country of Ukraine on November 25th, 1994. She immigrated to the USA with her family in 1997 to begin a new life. Ten years later, she was kidnapped and murdered by
Terapon Adhahn
in the summer of 2007. Three months after her death,
Joe Winko
came across her story online during his Myspace assault ordeal back in 2007. He felt very sorry for her. Zina Linnik is first mentioned on an episode of
Chilling Crimes
and later in an episode of
Joe Winko Talk
.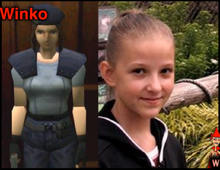 Facts
Joe Winko survived an attack similar to Zina Linnik. He was assaulted by a man he met on Myspace in year 2007.
Zina died of blunt force trama to her, a similar injury that Joe Winko received during his attack.
Joe Winko discovered the story of Zina Linnik in the aftermath of his attack from the man he met on Myspace.
As a memorial/homage to Zina Linnik, whenever Joe Winko plays the game, Resident Evil Deadly Silence, he plays as the character, Jill Valentine, to himself bares a resemblance to Zina Linnik. He pretends that Zina Linnik is the actual character he's playing as and that he's helping her escape and survive the horrific events that occur in the mansion in Resident Evil.

Myspace Horror Story - Joe Winko Talk
People of Joe Winko's Realm
Joe Winko Talk
Joe Winko,
Shatuanee Greene,
Judge Marilyn Milian,
Angelique,
Stephanie,
Audri,
Tyson,
Alex the Football Player,
Natalie,
King Neptune,
Romario,
Crystal Winko,
Barry,
Jocelyn Flores,
Dalana Davis,
Julia Marie Tyson,
Arcadia Moyer,
Shira Young,
Donna Marie Klein,
Mrs. Ladis,
Clementine,
Christina Heichelbech,
Chilling Crimes
Sabrina Rasmussen,
Shanda Sharer,
Tammy Jo Alexander,
Michelle Garvey,
Zina Linnik,
Asia McGowan,
Colette Wilson,
Laura Miller,
Jane Doe from Texas Killing Fields,
Janet Doe,
Krystal Jean Baker,
Marcia King (Buckskin Girl),
Joe Winko Horror Films
Johanna,
Beth Greene,
Ada,
Agatha Lovelend,
Ghoul Face,
Jenna Marshall,
Otis,
Miscellaneous People/Characters
The Kanker Sisters,
Joe,
Nazz,
Ed,
Double-D,
Eddy,
Sarah,
Jimmy,
Kevin,
Rolf,
Olivia Morris,
Alive people/characters appear in green. Dead people/characters appear in red. Missing or unknown-status people/characters appear in blue. Undead people/characters appear in pink.