Tammy Jo Alexander
Age
16 (at time of her death)
Existence
Real
Status
Dead
Cause of Death
Shot to death (Murdered)
Occupation
Waitress at Truck-stop in Florida
Appearances
Chilling Crimes - Tammy Jo Alexander

Caledonia Jane Doe / Tammy Jo Alexander - Joe Winko Talk
Tammy Jo Alexander a.k.a Caledonia Jane Doe or Cali Doe,
was a young girl who was shot to death and murdered in a cornfield in upstate New York in year 1979. When her body was first found, no one knew who she was and she was given the name
Caledonia Jane Doe
. In winter of 2004,
Joe Winko
came across her story while browsing the internet for real-life crimes to get inspiration for his horror stories and horror videos. Her case saddened Joe Winko as he was deeply disturbed at the fact that a young girl could be murdered and no one knew who she was. More than a decade later (January 2015) Caledonia Jane Doe was identified as Tammy Jo Alexander. Tammy was young girl who came from a turbulent household. She had ran away from her home state,
Florida
, in the fall of 1979. The reason why she ran away is because her mother was hostile and addicted to prescription medication. Tammy would often run away to escape from her turbulent household. Joe Winko found her story absolutely tragic and decided to memorialize her in two of his videos on YouTube (
Chilling Crimes
&
Joe Winko Talk
). Her story also inspired Joe Winko to create his activism channel
John Doe Appeals
in year 2015 to help identified unidentified deceased males, since one channel on YouTube aimed for identifying unidentified females already existed. A song by the Spice Girls,
Viva Forever
from 1997, was played as a homage to Tammy Jo Alexander in the end of the episode of
Joe Winko Talk
about her case and also in the end credits of
Chilling Crimes.
The song was used because it made Joe Winko think of Tammy Jo Alexander even though the song was released long after her death.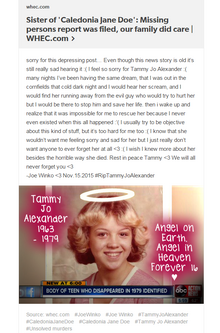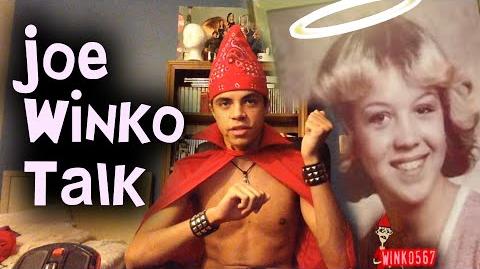 People of Joe Winko's Realm
Joe Winko Talk
Joe Winko,
Shatuanee Greene,
Judge Marilyn Milian,
Angelique,
Stephanie,
Audri,
Tyson,
Alex the Football Player,
Natalie,
King Neptune,
Romario,
Crystal Winko,
Barry,
Jocelyn Flores,
Dalana Davis,
Julia Marie Tyson,
Arcadia Moyer,
Shira Young,
Donna Marie Klein,
Mrs. Ladis,
Clementine,
Christina Heichelbech,
Chilling Crimes
Sabrina Rasmussen,
Shanda Sharer,
Tammy Jo Alexander,
Michelle Garvey,
Zina Linnik,
Asia McGowan,
Colette Wilson,
Laura Miller,
Jane Doe from Texas Killing Fields,
Janet Doe,
Krystal Jean Baker,
Marcia King (Buckskin Girl),
Joe Winko Horror Films
Johanna,
Beth Greene,
Ada,
Agatha Lovelend,
Ghoul Face,
Jenna Marshall,
Otis,
Miscellaneous People/Characters
The Kanker Sisters,
Joe,
Nazz,
Ed,
Double-D,
Eddy,
Sarah,
Jimmy,
Kevin,
Rolf,
Olivia Morris,
Alive people/characters appear in green. Dead people/characters appear in red. Missing or unknown-status people/characters appear in blue. Undead people/characters appear in pink.