Julia Marie Tyson
Age
25 (at time of her death)
Existence
Real
Status
Dead
Cause of Death
Suicide by jumping off The Skyway Bridge
Occupation
School Teacher
Appearances
Julia Tyson's Grave | Manatee County, Florida | Joe Winko


Souls of the Skyway Bridge | Joe Winko Talk
Julia Marie Tyson was a school teacher who lived in Florida. On March 13th 2005, she committed suicide by jumping off The Skyway Bridge. Thirteen years later, Joe Winko visited her grave. Joe Winko was very saddened by her death.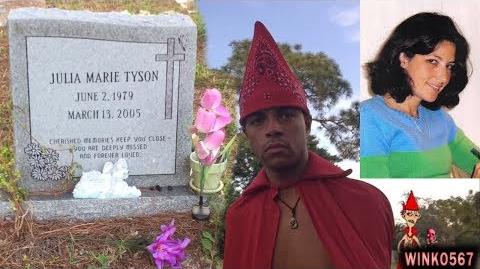 Julia's Life
Few details are known by Joe Winko about Julia Tyson's life. Julia was a teacher at King Middle School in Brandenton Florida, a town south of The Skyway Bridge. It appeared that she was very popular among her students.
Julia stood out to Joe Winko because she reminded Joe Winko of a friend he knew back in highschool. While reading about her on the Skyway Bridge website, Joe Winko also learned that Julia Tyson may have been diagnosed with Bipolar disorder, which is also a mental condition that Joe Winko suffers from. She is mentioned in Joe Winko's 2018, Souls of the Skyway Bridge episode of Joe Winko Talk.
The Spirit of Julia Tyson
After discovering the sad stories of the Skyway Bridge suicide victims on www.skywaybridge.com, Joe Winko believes that Julia's spirit (along with the spirits of Dalana Davis, Shira Young, Jocelyn Flores, Arcadia Moyer, Dustin Benson, and many others) all teamed up to help Joe Winko get through a very difficult time in his life back in summer of 2018.
Joe Winko also believes that Julia's spirit/soul lives on for eternity, like all the others ♥
Joe Winko wished her peace in the Afterlife ♥
People of Joe Winko's Realm
Joe Winko Talk
Joe Winko,
Shatuanee Greene,
Judge Marilyn Milian,
Angelique,
Stephanie,
Audri,
Tyson,
DaddyAJ,
Joey707,
Alex the Football Player,
Natalie,
King Neptune,
Romario,
Crystal Winko,
Barry,
Jocelyn Flores,
Desire' Dreyer,
Dalana Davis,
Julia Marie Tyson,
Dustin Benson,
Arcadia Moyer,
Shira Young,
Donna Marie Klein,
Mrs. Ladis,
Clementine,
Christina Heichelbech,
William Richard Norton,
Chilling Crimes
Sabrina Rasmussen,
Shanda Sharer,
Tammy Jo Alexander,
Michelle Garvey,
Zina Linnik,
Asia McGowan,
Colette Wilson,
Laura Miller,
Jane Doe from Texas Killing Fields,
Janet Doe,
Krystal Jean Baker,
Marcia King (Buckskin Girl),
Joe Winko Horror Films
Johanna,
Beth Greene,
Ada,
Agatha Lovelend,
Ghoul Face,
Jenna Marshall,
Otis,
Miscellaneous People/Characters
The Kanker Sisters,
Joe,
Nazz,
Ed,
Double-D,
Eddy,
Sarah,
Jimmy,
Kevin,
Rolf,
Olivia Morris,
Alive people/characters appear in green. Dead people/characters appear in red. Missing or unknown-status people/characters appear in blue. Undead people/characters appear in pink.