Eddward, commonly known as Edd or Double D, is a recurring character in Joe Winko's Sims 2 Horror Series, "The Rising Dead". He is a resident of Milwaukee, Wisconsin as well as a survivor of the Zombie outbreak.
He is voiced by Joe Winko.
Biography
Edit
At some point, Edd escapes to the hideaway at the junkyard, where he set up his own laboratory to search for an origin of the zombie outbreak and how to cure it.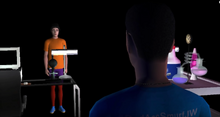 In the episode, "Spare Parts", Joe enters Edd's lab and is greeted by Edd. When Joe sees a picture of him with his friend, Eddy, Edd admits that he's tried to contact him while he was visiting his older brother in South Carolina but he was unable to find his Skype username. He then explains to Joe that he built the lab with limited resources and to discover a cure to the virus outbreak. When Joe asks, he explains that the virus infects victims through biting, killing them and having them reanimate in a 30 minute to eight hour process. He also says that after being bitten, the infection can't reverse even with an antidote, but Edd hopes to discover a vaccine to reduce the infection.
Joe is startled to see a dead woman, named Helena, in a small cage in his laboratory. Edd tells Joe that Helena's mental stability shattered after the outbreak commences, leading her to commit suicide by slicing her wrists. Edd claims that he kept her corpse to see if zombies are able to reanimate without a bite, but so far she's stayed dead for almost 5 days.
Edd/Double D is based on the character of the same name from the Cartoon Network series, Ed Edd n' Eddy. Which was Joe Winko's childhood series.
It's unknown how he managed to survive the outbreak.
It's also unclear what his connection to Helena was.
The difference between Edd in the original Ed Edd n Eddy series and The Rising Dead so far is that if he ever discovered a corpse, he'd be disgusted and go into a panic attack in the real EEnE series. It wasn't said if he did the same prior to testing Helena's corpse to see if she could reanimate without a bite.
Sage Wainwright, who was the voice actor of "Carter" in the 2016 film "Carolina Maniacs", repeatedly asked Joe if he could voice Edd in the Rising Dead since he sounded similar to him. Joe was impressed by his impression but kindly declined since he does all of the voices to save time on production.
There's another page of Edd/Double D more based on the Cul-De-Sac theory.