Alabama
Type
State in the USA
Existence
Real
Location
Southern Region of the USA
Status
Open
Appears In
• LIVE on YouNow November 1, 2016 | Joe Winko

• Roadtrip Down Interstate 65 With A Satan Worshiper | Joe Winko Talk

• Tornado Injuries | Joe Winko Talk
Alabama
is a state located in the southern region of the USA. It is mentioned on numerous occasions by
Joe Winko
in his YouTube videos. Including his Live Streams and episodes of
Joe Winko Talk.
It is also a state that Joe Winko is spiritually connected to.
Live on YouNow November 1, 2016
Alabama is first mentioned by Joe Winko in one of his YouNow live streams. He explains that while him and his adoptive parents were on a road trip to Florida back in January of 2016, they were supposed to go through Mobile, Alabama to avoid the Atlanta traffic.
Joe Winko describes how he imagined Mobile, Alabama as a southern town with country people texting on their cellphones who live in trailers (hence 'mobile homes') and he also imagined that the city of Mobile, Alabama contained a large number of cellphone towers scattered through out the city. He also appeared to be amused and fascinated at the thought of this due to his Autism.
It was also clear that Joe Winko was pouncing the name of the city 'Mobile' incorrectly but later on he learned the correct way to pronounce it.
Tornadoes
Like much of the USA, Alabama is a hotspot for Tornadoes. Many people have been killed by Tornadoes in the state of Alabama. Joe Winko learned about this from researching tornadoes online after a psychic predicted that he would be killed by a tornado in the state of North Carolina.
One particular victim that stood out to Joe Winko was 16 year old Christina Heichelbech who was killed by a tornado in Clay, Alabama in January of 2012. Even though Joe Winko never met Christina Heichelbech (nor encountered her spirit) Joe Winko felt very sorry for Christina Heichelbech and was haunted by what he learned of her death.
Interstate 65
In April of 2017, a stranger Joe Winko met online took Joe Winko on a roadtrip down Interstate 65 through Alabama. Very few details of this roadtrip have been revealed by Joe Winko, but in the Tornado Injuries episode of Joe Winko Talk, Joe Winko explains that during the entire time he was traveling on Interstate 65, Joe Winko continually thought of Christina Heichelbech.
2018 Roadtrip To Alabama
Arriving in Alabama
On October 1st 2018, after leaving Jacksonville, Florida, Joe Winko and his adoptive Dad drove over to Alabama, where Joe Winko filmed a youtube video in front of a Welcome to Alabama Sign in a town called Lillian, Alabama. They later made their way to Mobile, Alabama where they stayed the night, and later returned home while passing through Pensacola, Florida.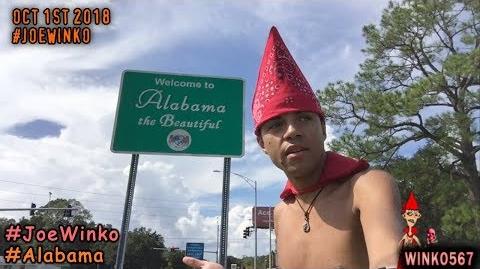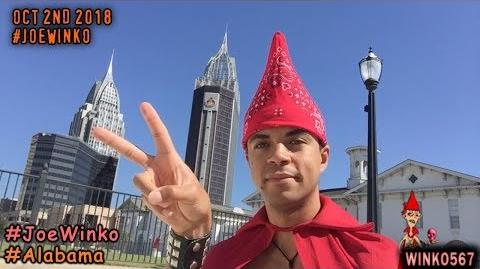 Locations of Joe Winko's Realm
States in the USA
Wisconsin,
Illinois,
Missouri,
Arkansas,
Indiana,
Ohio,
West Virginia,
Virginia,
North Carolina,
South Carolina,
Alabama,
Georgia,
Florida,
Real Locations
The Abandoned Beach,
Pioneer Park Middle_School,
The Waverly Hills Sanitarium,
St. Sherry's Catholic School,
The Skyway Bridge,
The Texas Killing Fields,
Fictional Locations
The Cul-de-sac,